Samoa 2003
A travel diary of my trip to Samoa in March 2003
page 1 of 8
As I arrived in Samoa at 2:30 AM a cloud of moist and heavy tropical air surrounded me. A tremendous downpour accompanied by with thunder and lightning welcomed the passengers of this flight from Auckland. The airport of Western Samoa is quite small and the walk over to the arrival hall takes only about one minute. However, in a shower like this these 200 meters are already far enough to get soaking wet. Most of the passengers were supplied with giant umbrellas that did not prevent them from getting wet, because the drops were bouncing off the landing strip. In this tropical climate it hardly matters if you get wet. The airport is about 1 hours' drive away from the capital Apia. The shuttle bus finally arrived at 4 AM at the hotel after waiting for the last mice to to leave the buildings of the airport. As you can imagine, I was very tired, but I knew, upon waking up in the morning, a gifted day would begin... because the 20th of March 2003 existed twice for me, once in New Zealand and once in Samoa, thanks to the crossing of the dateline.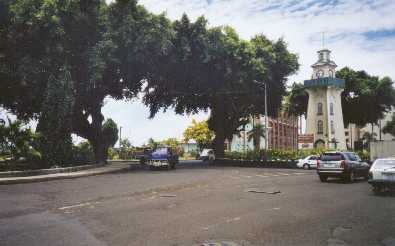 Apia, the only city of Western Samoa. Unfortunately during the last years the traffic is increasing and there are a lots of new cars on the roads.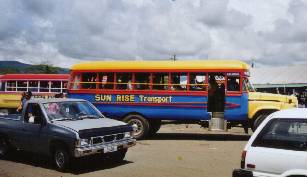 Riding the local buses is always a rewarding experience. The bus is mainly built from timber and inside the bus are dangling all sorts of objects. There are usually no windows, apart from the windscreen and the standard feature is at least one giant speaker box that drowns everyone in the vibrations of heavy woofing Reggae music, originating from a car stereo, that is wired in an unbelievably adventurous fashion. All this action comes at a very affordable price. If you don't like to get massaged by the bass sounds you are free to walk instead. For me every bus ride was a true adventure.(Stir it up bab bab little darling...)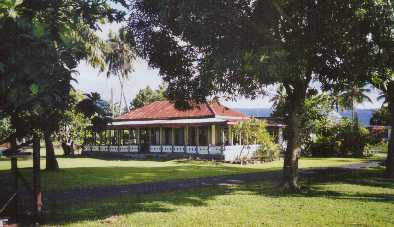 A typical new age Fale in Apia with a corrugated iron roof.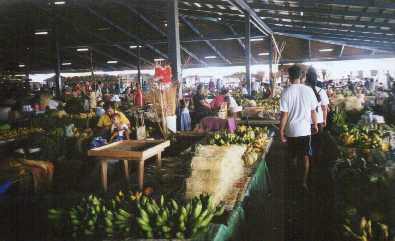 The colourful market. In the food section you will find Bananas of all kinds, Papayas, Avocados, coconuts,expensive pineapples and some other fruits, unfortunately the Mango were out of season...

This low-tide beach at Palolo Deep in the surrounds of Apia reveals, after passing through the shallow reef bit, a tremendously colourful snorkeling paradise. Snorkeling in an "aquarium", with water temperatures around 30 degrees. This is also the place where my watch left me with a last bib,bib,bib. It wouldn't have been of much use here anyway.
The local pigs next to a pig up truck.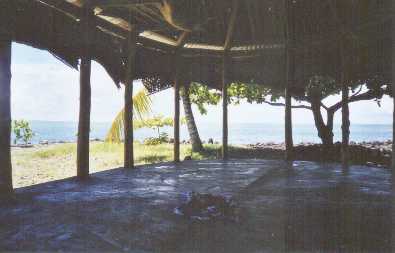 A traditional Fale from the inside out. The shade is very pleasant.

Continue