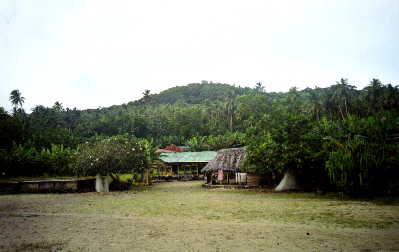 This is the little mountain (approx. 100m), which is in the middle of the island. On the slopes you'll find Coconut plantations, Taro plants and Cocoa trees. On the summit there is a twelve-pointed star mount (17mx17m, approx.1,5m high) made from black lava rocks. That place is densely overgrown and no one uses this structure any more, in fact no one really knew why and when it was erected.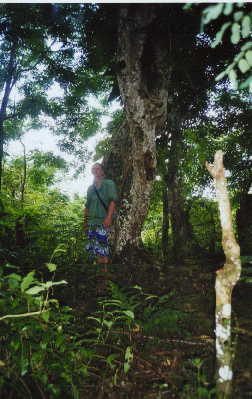 Of course this particular place caught my attention and I spent quite a bit of time up there. As a friend of Spirals, I immediately noticed that the big tree in the centre of the star mount twists nicely in a clockwise direction.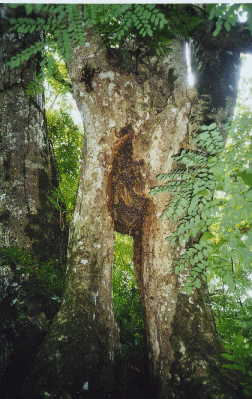 There was also a giant bees nest in the tree. It was hard to take a picture of the platform , because I could not get the right distance in the overgrown territory.
This was my accommodation at Vaotu'ua beach. This Fale is unusually situated above the water. At night I heard the waves splashing directly under my mattress. The waves however are never big, because the entire island is surrounded by a coral reef. The place is ideal for snorkeling directly off the doorstep (if there was one!).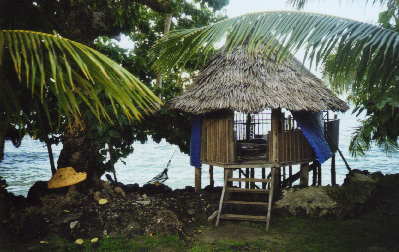 My fale seen from the other side. As unusual as the "overseas" structure is the usage of plastic canvas as walls. Well, I suppose, the palagis should feel really at home...
These two weavers sold me some mats to take home. One for sitting and resting and the other one for special occasions. The special one is called i e Toga and also provides the background pattern for the webpages.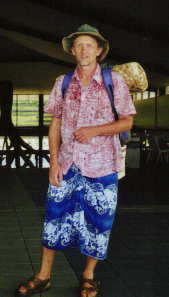 The departure from Manono was quite difficult. You may think it was hard for me to leave, because it was such a relaxing atmosphere! But no, the last hours of my stay were very stressful. The boat Mafia had decided to grant the palagi's transfer back to the mainland only after paying a special fare or perhaps not go at all. Unfortunately I had mentioned that my plane leaves that very night... After some uncertain waiting hours (2-3 hours) and some help from a very friendly local, I managed to get across and reach my flight on time.
In the airport's waiting hall there was the first opportunity to test my new mat. The last thunderstorm shook the air, the last sunset bathed the evening sky in dramatic colours and at 2 AM in the morning the plane took off to Auckland. The beginning day however didn't last very long, as 3 hours later in Auckland it was already a day later.

Well this was Samoa. I hope you enjoyed the trip. See you again. All the best from Micha